Enter the evocative world of Oscar Wilde's The Nightingale and The Rose, magically brought to life by acclaimed artist Del Kathryn Barton and renowned filmmaker Brendan Fletcher in this milestone exhibition
Featuring a selection of Barton's evocative paintings alongside a screening of the film, stunning never-before-seen handmade props, and material from the production archives, Del Kathryn Barton: The Nightingale and the Rose reveals the extraordinary workings behind this captivating animated picture.
This exhibition is touring throughout Australia. See if it's stopping at a town near you.
Introduction
The Garden
The Student
The Rose
The Daughter
The Nightingale
In 2010, publishing house Art & Australia invited celebrated Australian artist Del Kathryn Barton to create a new series of works that reinterpreted a classic fairytale. A long time Oscar Wilde enthusiast, Barton was immediately drawn to his 'The Nightingale and the Rose' (1888), a poignant short story that centres on a vulnerable but courageous feminine protagonist.
Produced over the course of two years, Barton's collection reimagines Wilde's narrative in her enchanting signature style. Using a meditative and meticulous mark making technique, Wilde's characters take on reinvigorated meaning – luminous in form, they are powerful and magnificent in their physicality.
It was a serendipitous moment when in 2012, Barton casually mentioned to acclaimed Australian filmmaker Brendan Fletcher that she was eager to make her Nightingale works into a short film. Despite neither having an animation background, Barton and Fletcher were inspired by their shared vision to offer something new and special to the field. Their ensuing collaboration would combine Barton's extraordinary feel for the handmade with Fletcher's dynamic directional skills, while still remaining true to the original text.
Over the next three years, Barton and Fletcher worked with award-winning post-production house Method Studios to create their 14-minute animation. A remarkable take on Wilde's earnest tale, the final production is an intense but stunningly ethereal and visceral journey. With a stirring score by Australian singer-songwriter Sarah Blasko and voiced by some of Australia's most celebrated actors, Oscar Wilde's The Nightingale and the Rose is a feat of multidisciplinary, collaborative art practice.
Celebrating both the film itself and the exemplary processes behind its creation, Del Kathryn Barton: The Nightingale and the Rose invites visitors into a truly immersive Nightingale world.
The Garden
'She said that she would dance with me if I brought her red roses', cried the young Student; 'but in all my garden there is no red rose.'
First published in 1888 as part of his renowned anthology The Happy Prince and Other Stories, Oscar Wilde's 'The Nightingale and the Rose' is a tale of unrequited love, radical transformation and extraordinary sacrifice.
Written in Wilde's florid literary style, 'The Nightingale' presents an elaborate world that delicately blurs the real and the imagined. With its cast of enchanting characters, including animals, trees and flowers that come to life in full speech, Wilde's setting is by turns whimsical, eccentric and fragile.
For artist Del Kathryn Barton, 'The Nightingale' presented a rich archetypal touchstone. In her inimitable aesthetic style, remarkably like Wilde's with its graceful melding of realism and fantasy, Barton breathed new life into the story. Abundant, bold, brilliant and vivid, her interpretation was at the same time captivatingly delicate, detailed and entrancing.
It would take an exceptional team led by Barton and Brendan Fletcher as directors, and Method Studios as creative collaborators, to eventually realise this 21st-century Nightingale world. Through an astounding combination of digital and hand-crafted stop-motion animation, Wilde's timeless fairytale is stunningly reawakened on screen.
The Student
If I bring her a red rose, I shall hold her in my arms, and she will lean her head upon my shoulder, and her hand will be clasped in mine.
Pensive and forlorn, Wilde's male protagonist is passionately consumed by the Professor's Daughter and is desperate to capture her lasting affections. With 'hair as dark as the hyacinth-blossom', lips as 'red as the rose of his desire', a face 'like pale ivory' and 'sorrow set upon his brow', the Student sits caught between the 19th-century preoccupation with Philosophy and Metaphysics, and the ardent pursuit of true Love.
Barton dedicated two of her Nightingale works to the Student's character. Combining her distinctive black line work with softly-coloured confetti dots and bleeding painted edges, she magically brings dualism to his resolve – confident and uncompromising on the one hand; brooding and lovesick on the other.
A key challenge for the entire creative group was how to digitally embody this duality. The task of combining different faces from Barton's two canvasses, bringing gradation to the Student's expression while maintaining the raw brushstrokes and hand-crafted feel, was enormously complex.
Over several months, Barton, Fletcher and the Method Studios' team workshopped the original components: they layered painted imagery with digital recalibrations, built and shot the Student's handmade hair and red sash, painstakingly sketched and mapped out his every characteristic, and integrated Benedict Samuel's voice-over. Only then, when all the elements were properly aligned, did their Student truly come to life.
The Rose
Be happy, be happy; you shall have your red rose. I will build it out of music by moonlight, and stain it with my own heart's blood.
The fragile and rare Red Rose is the object of the Student's material desire; his ultimate offering to the Professor's Daughter as he courts her unwavering affections.
Sensitive to the Student's anguish, Wilde's Nightingale selflessly undertakes to find the impossible rose. Courageous and gracious, she soars through the night sky from White Rose to Yellow Rose, searching for Red. Declaring the Student as her own 'true lover', the Nightingale devotedly dedicates her journey to him.
Just as her quest grows ever more futile, the Rose-Tree fortuitously reveals his true colour to be as 'red as the feet of the dove'. Though Winter has chilled his veins and 'frost has nipped his buds', the Tree offers up his petals but only if the Nightingale sings with her breast against his thorn, piercing her heart, giving her life-blood to him.
As if by the Nightingale's own brushstrokes, Barton spectacularly paints the Red Rose into full bloom. Delicate, detailed and veined, and with its own beautiful eye, the Rose is personified magnificently in pinks and reds.
Embodying Barton's Rose in its most fulsome state would take an extraordinary combination of digital manipulation and practical animation, alongside the creation of an actual rose in seven different prop forms. Using stop-motion techniques, the Nightingale's bloodlines are transformed with paint and the White Rose's petals are gradually stained crimson.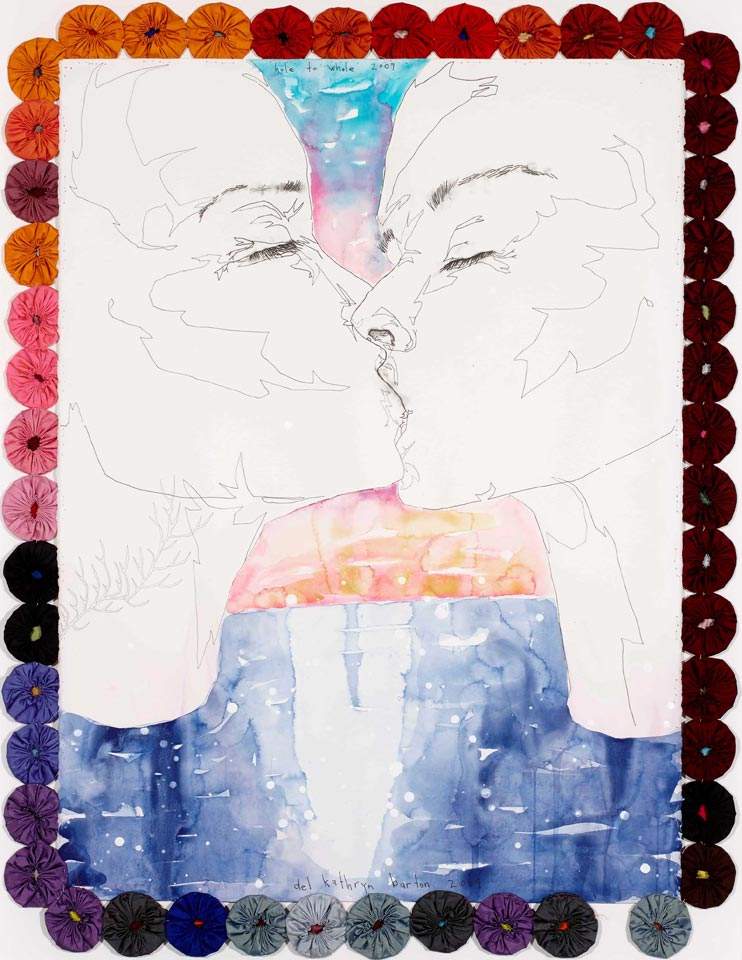 The Daughter
I am afraid it will not go with my dress, And besides… everybody knows that jewels cost far more than flowers.
The Professor's Daughter brusquely rejects the Student's gift of the impossible Red Rose, in favour of jewels from the Chamberlain's Nephew. Scornfully demeaning the Student's status and cruelly reflecting the social milieu of the time, she prompts him to relinquish Love completely and abandon its promise and value.
Opulently costumed in black and pearl with lavish adornments, Barton's Daughter has a dramatic but timeless feel. Synonymous with so many of her painted feminine subjects who combine innocent youthfulness with a mature intensity, the Daughter majestically sits against an intricate backdrop of rich patterning and texture. With blushed pink cheeks, deep red lips and wondrously tussled tresses, she is both striking and stubborn.
To bring the Daughter to screen, the filmmakers digitally rebuilt her every feature, including creating a life-size rendering of her dress and a full head of paper hair, as well as integrating Sophie Lowe's perfectly poised voice-over. Barton's background dot-work was expertly coded as an algorithm to appear as if free-falling, and frame-by-frame the Daughter's movements were shot and remastered. The resulting portrait is a stunning amalgam of Barton's renowned aesthetic and Wilde's original character, realised in a rich animated realm.
Image: The daughter
Del Kathryn Barton, 2011-12
acrylic, gouache, watercolour and ink on polyester canvas
Courtesy of ARTAND Foundation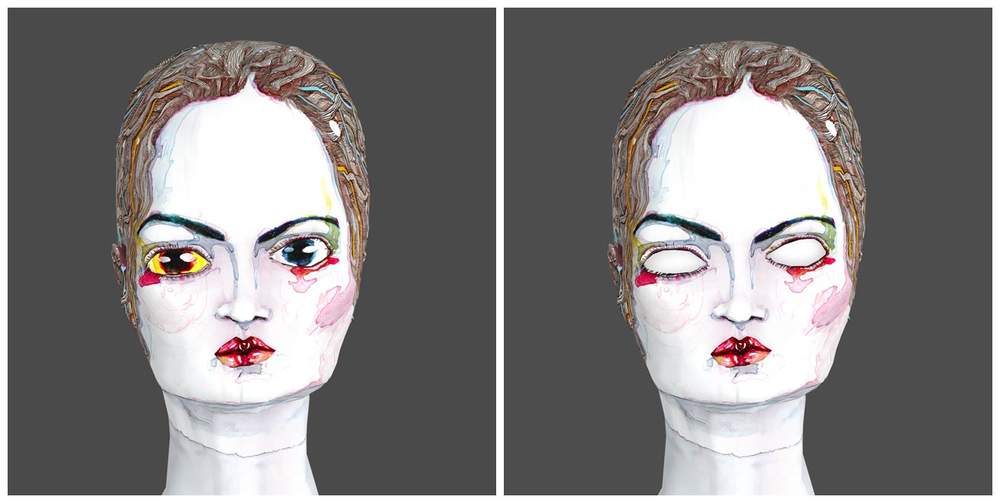 The Nightingale
'There is a way, answered the tree; but it is so terrible that I dare not tell it to you.' 'Tell it to me,' said the Nightingale, 'I am not afraid.'
From book to canvas to screen, Oscar Wilde's titular bird, the Nightingale, soars evocatively as the archetypal, timeless heroine—at once naïve and wise, young and old, bold and sentimental.
With grace and courage, Wilde's Nightingale selflessly undertakes to find the Student a rare red rose; his prized gift her ultimate offering. In the greatest gesture of sacrificial love, she gives herself wholly to its creation. Passionately reciting her sweet song in the moonlight, her breast is pierced against the thorn, and her life-blood is dramatically surrendered as the White Rose's petals are stained red. And yet, despite the trauma and drama of the Nightingale's surrender, a captivating beauty and transformative energy underscores the story.
With creative compassion and a self-described 'physiological and emotional connection', Barton paints Wilde's Nightingale into a resplendent form. With an indelible injection of colour, contour and texture, the Nightingale is breathtakingly energised on canvas. Wilde's 'true lover' is, for Barton, a 'true artist who gives completely of her deepest essence'.
Transported to screen, Barton and Fletcher knew that it would take a unique talent to truly capture the Nightingale's voice, and work in unison with the stunning animation. Actress Mia Wasikowska and singer-songwriter Sarah Blasko combined forces to vocalise Wilde's central character. Innocent and pure, intense and raw, the Nightingale was brought to life—from pressed ink, to brilliant watercolour, to incredible digital form.
Image: wilder grew her song
Del Kathryn Barton, 2011-12
acrylic, gouache, watercolour and ink on polyester canvas
Collection of Del Kathryn Barton
So the Nightingale pressed closer against the thorn, and the thorn touched her heart, and a fierce pang of pain shot through her. Bitter, bitter was the pain, and wilder and wilder grew her song, for she sang of the Love that is perfected by Death, of the Love that dies not in the tomb.
Del Kathryn Barton
Del Kathryn Barton has been exhibiting since 1995. In 2013, Barton was award­ed the Art Gallery of New South Wales' Archibald Prize for the second time with a portrait of actor Hugo Weaving. In 2012, a solo exhibition of Barton's work was presented at the Heide Museum of Modern Art, Melbourne. She has also been included in notable groups exhibitions, such as Dark Heart, 2014 Adelaide Biennial of Australian Art, Art Gallery of South Australia, Adelaide (2014), Express Yourself, National Gallery of Victoria, Melbourne (2014), Australia: Contemporary Voices, The Fine Art Society, London (2013), Louise Bourgeois and Australian Artists, Heide Museum of Modern Art, Melbourne (2012), Theatre of the World, Museum of Old and New Art, Hobart (2012), Lightness and Gravity, Gallery of Modern Art, Brisbane (2012), Wilderness, Balnaves Contemporary Painting, Art Gallery of New South Wales, Sydney (2010) and Feminism Never Happened, Institute of Modern Art (IMA), Brisbane (2010). In 2015, Barton was awarded an AFTRS Creative Fellowship, following on from her directorial debut with The Nightingale and the Rose (2015)
Barton's work is represented in major museum collections in Australia, including the Art Gallery of New South Wales, Sydney, the Queensland Art Gallery | Gallery of Modern Art, Brisbane, the National Gallery of Australia, Canberra, the Art Gallery of South Australia, Adelaide and the Museum of Old and New Art.
Brendan Fletcher
Screen International listed Brendan as one of 25 International Rising Stars following the release of his debut feature 'Mad Bastards'.
'Mad Bastards' was nominated for the Grand Jury Prize at the 2011 Sundance Film Festival and was snapped up for US distribution by Indie Giant IFC Films. It won the Independent Spirit Award at the 2011 Australian IF Awards; received 5 x AACTA Award nominations including Best Film and Best Original Screenplay; won Best Film at the Deadly Awards and garnered Australian Film Critics and Director's Guild nominations for Best Director.
This success follows a robust, award-winning career in factual and documentary. Brendan has built a reputation as a trusted collaborator with some of Australia's premium creative talent. This began with Brendan co-directing a series of documentaries with Russell Crowe ("Texas"—screened at Sundance, Berlin and Sydney Film Festivals); then Brendan co-directed the award-winning "Black Chicks Talking" with Leah Purcell—which screened In Competition at Tribeca Film Festival and received the Audience Awards at the Sydney and Brisbane Film Festivals, as well as the IF Award for Best Documentary.
Then Brendan directed the 2011 ABC TV comedy-doc series "Judith Lucy's Spiritual Journey" (nominated for an AACTA Award for Best Light Entertainment and a Logie Award for Best Documentary) and Andrew Denton's ABC TV biographical interview show "The Elders"—with guests including Elizabeth Murdoch, Bob Hawke and Sir David Attenborough.
Brendan's rich and inspiring work with inner-city housing commission residents on ABC TV's social documentary "900 Neighbours" won him the ATOM Award for Best Social/Political Documentary, a Film Critics nom for Best Documentary and a Writers Guild nom for Best Script.
In 2015, Brendan collaborated with Cannes winning film-maker Warwick Thornton to direct a Tourism Australia TV commercial campaign "Our Country Is Waiting For You" which has been seen by over 30 million people worldwide.
And he's just completed 'Songman'—a documentary about Aboriginal music legend Kev Carmody which screened on ABC TV in early 2016.
Listen to Brendan on ABC Radio National with Michael Cathcart
Listen to Brendan on ABC 774 Evenings program with Jacinta Parsons (skip to 1:26 minutes)
Method Studios
Method Studios is an award-winning visual effects and post production studio that offers strategic and creative services to the local and international community.
Aquarius Films
Aquarius Films is a Sydney-based production company focused on producing high quality feature films, television series and documentaries for the international market. The company is a creative partnership between award-winning filmmakers Angie Fielder, Polly Staniford and Cecilia Ritchie.